I've always told stories (just ask my Mum). In 2011, I started writing them down. By 2014 I had actually written a novel 'The Whisper of Stars'. For some reason I chose Science Fiction (blame Star Wars I guess). Then, I wrote another and then moved onto my great love, time-travel. Then I went back to 1995 and told my younger self to pull his finger out and start writing earlier (I wish).
Try googling me. Seriously, try it. I'm either an entrepreneur, a Doctor or a google correction (Did you mean Nick Jonas?) Ha.
My big loves? Reading (obviously) Film (And Netflix binging), Games (The new Zelda.. my goodness), Gin (There are so many!) And vinyl (It actually does sound warmer). Oh and cooking. Yep, I'm a modern man.
I was born in Stratford-Upon-Avon, Warwickshire in 1972. Ahhh. Shakespeare Country: I wanted to be an actor… pretty obvious that didn't work out. Then I wanted to be a rock-star… there's a theme here… then, finally a novelist. Ha! Doing that one… So there…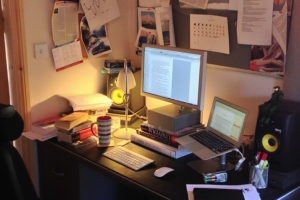 I now live in Gloucestershire and can usually be found in my studio, surrounded by notes and scribbling on a large white board. You can email me here (I actually reply) and also listen to tracks from my secret (you could argue, non-existent) music career here.
You can follow me here. In the words of Blur, Parklife, it gives me a sense of enormous well-being.